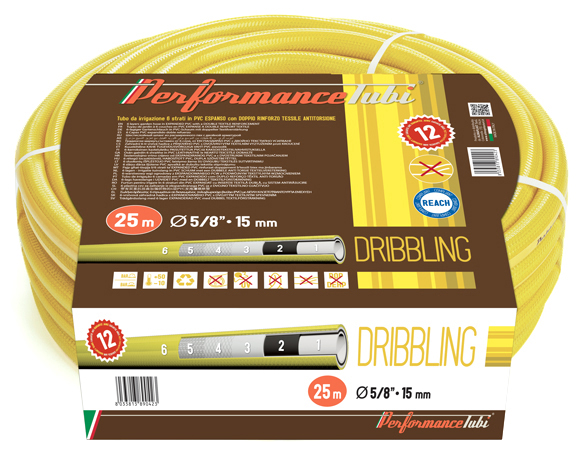 Project Detail
DRIBBLING

6 layers garden hose in EXPANDED PVC with a DOUBLE TEXTILE REINFORCEMENT ANTI-TWIST
Due to its alveolar layer of EXPANDED PVC, Dribbling is a highly flexible hose and is particularly resistant to torsions and twisting.
Made with the highest quality materials it offers excellent performances and makes the winding and unwinding process on the cart much simpler.
Its great texture, flexibility and lightness make it the ideal hose for a professional and demanding "gardner".
The latest generation braided structured reinforcement in polyester prevents the under layer to inflate and deform whilst granting extreme handiness.





Inner layer in REACH compliant white non
toxic PVC
Coextruded layer in REACH compliant black algae proof EXPANDED PVC
Coextruded layer in REACH compliant white non toxic PVC
Braided reinforcement in polyester
Knitted reinforcement in polyester
Outer layer in REACH compliant transparent yellow PVC with a matt yellow coextruded PVC stripe